Congratulations to the winners of the 2018 University Libraries Undergraduate Research Project Contest!
Beckie Jaeckels won first prize and a $500 scholarship for her paper "Written in Stone: A Critical Look at the Nation's Dealings with Racial Discussion in 2017." Her paper is structured around her work with Dr. Berkley Hudson as a Discovery Fellow. Dr. Berkley describes the paper as an exploration of "the twists and turns that have led to today's debate about the role and the legitimacy of monuments dedicated to the Confederacy and its Lost Cause and those connections with enslavement and with contemporary racial strife and brutality." Beckie cites a wide variety of 38 primary and secondary sources, from traditional print sources to tweets.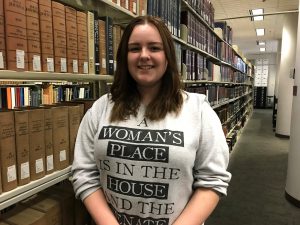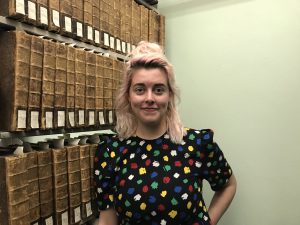 Autumn McLain won second prize and a $250 scholarship for her research paper "Jonathan Swift, Misanthropy, and 'The Voyage to The Land of The Houyhnhnms'." Autumn began her research with primary documents, Swift's correspondence around the time when he was drafting Gulliver's Travels, before delving into secondary sources. Her course professor Dr. Stephen Karian says that this strategy "allowed her to foreground her own words and ideas and to prevent them from being subsumed by those of other scholars–something that many undergraduates struggle with when writing research papers."
The winners' papers are archived in MOspace, MU's digital repository, and linked above.
Thanks to the Friends of the University of Missouri Libraries for sponsoring these awards.