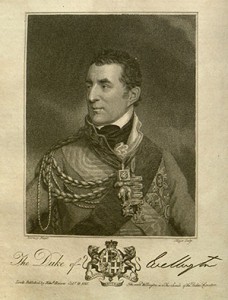 July 22, 2012 marks the 200th anniversary of the Battle of Salamanca. While Napoleon was in the midst of his Russian campaign, other generals were busy consolidating France's position in Spain against a combined force of English, Portuguese, and Spanish rebels.
Though Wellington is probably best remembered for the Battle of Waterloo in 1815, the battle at Salamanca is often called his masterpiece. On the afternoon of July 22nd, after a full day of fighting, Wellington recognized a weakness in the French army lines. His decisive orders for attack led to a rapid victory for the British forces.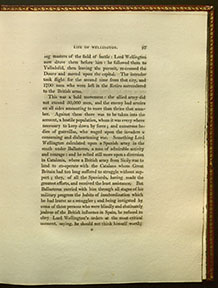 The relative quickness of the British success following this action inspired friends and enemies. The French general Maximilien Foy famously declared "Wellington defeated an army of 40,000 in 40 minutes" when he wrote about his experience at Salamanca in his journal. Robert Southey's account of the battle from his book Life of Wellington emphasized the dramatic moment Wellington gave his orders.
"Lord Wellington was at dinner when he was informed of this movement [of French troops]: he saw at once the advantage which had been given; he rose in such haste as to overturn the table, …and in an instant was on horseback, issuing those orders which won the battle of Salamanca."
While these accounts might not be strictly true, they do reflect the quickness of this stage of the battle and the strategic skill shown by Wellington.
Up to this point, Wellington had generally been regarded as a defensive general. Salamanca established his ability as a skillful soldier and tactician. This statement from Baines' History of the Wars of the French Revolution is characteristic of many of the tributes to the battle and to Wellington: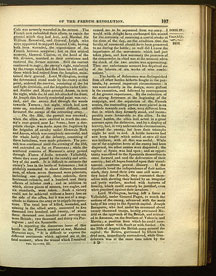 "The battle of Salamanca was distinguished from all other battles hitherto fought in the peninsula, by several important circumstances: it was more masterly in the design, more gallant in the execution, and followed by consequences of far greater importance."
In retrospect, observers recognized July 22, 1812 as a turning point in the Peninsular War, not only for Wellington's reputation but for the morale of French army on the peninsula. British forces eventually drove the French armies from Spain and invaded Southern France in 1814. If British officer William Napier is to be believed, Wellington was aware of the shift on the afternoon of the battle. Napier recalls seeing Wellington late in the day at Salamanca "…alone, the flush of victory was on his brow… With a prescient pride he seemed only accept his glory as an earnest of greater things." Those greater things would culminate in the Battle of Waterloo, and the final defeat of Napoleon.

Robert Muir's Book Salamanca, 1812 (Yale University Press, 2001) is a source for more information about the battle and its' importance.