Celebrate Open Education Week 2019 (March 4-8) by learning more about how you can support Open Education!
Open Education Week is an international celebration of the global Open Education Movement. Its goal is to raise awareness about the movement and its impact on teaching and learning worldwide.
Check out these Open Education Week activities and events at Mizzou!
Instructor OER Survey 2019
Online Survey – approximately 10 minutes
SURVEY
Open to MU faculty and graduate instructors. Please take this anonymous survey to help The UM System's Affordable & Open Educational Resources (A&OER) learn more about instructor approaches and practices for the selection of teaching materials. The data received from this survey will be used to formulate new strategies for supporting teaching and learning at the University of Missouri. Survey is open until March 31, 2019.
Survey URL: https://missouri.qualtrics.com/jfe/form/SV_0lnuNvcUuysg6G1
Contact: oer@missouri.edu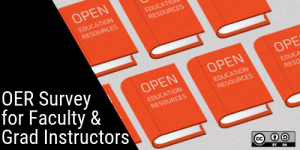 OER Commons: Where Do I Start?

Online Webinar
Wednesday, March 6, 2019 at 12:00pm Central (noon)
REGISTER
Are you a faculty member who wants to learn how to find and share OER content? Are you a librarian who wants to learn more about how to create tailored OER collections for your campus? Do you want to know how to help instructors showcase the open course materials they are creating? Are you just really exited about Open Education Week? Then this webinar is for you!
Join MOBIUS OER System Leaders, Grace Atkins and Christina Virden to learn more about how to get the most out of this new resource available to member institutions. We will cover how to create collections on the hub, use OER Commons authoring tools, and implement strategies for collecting OER already existing on your campus.
Registration URL: https://register.gotowebinar.com/register/6536469480293590027
Contact: Christina Virden, christina@mobiusconsortium.org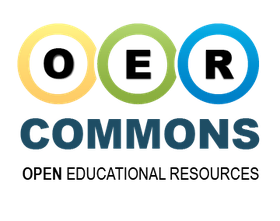 Open Textbook Library Review Workshops for Faculty
In-Person Workshop
Ellis Library classroom 213
Two opportunities to attend!
Tuesday, March 5 at 4pm
Friday, March 8 at noon
Are you an instructor who is concerned about the impact of high textbook costs on your students? Explore possible open textbook solutions by attending the Open Textbook Library Review Workshop — a one-hour session where you can discover open textbooks in your field. Attendees who go on to write a review for the Open Textbook Library qualify for a $250 stipend. Please only attend one workshop.
Registration URL: http://library.missouri.edu/news/ellis-library/open-textbook-library-review-workshop-for-faculty
Contact: Grace Atkins, atkinsge@missouri.edu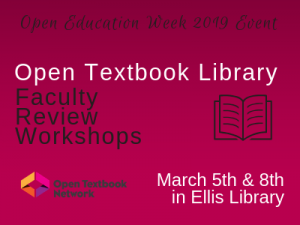 OER REMINDERS
Reminder: Affordable and Open Educational Resources grant proposals are due on March 8.