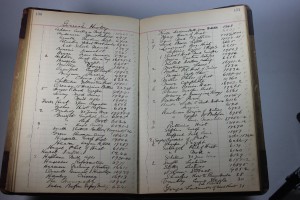 Inventory of the General Library-Jesse Hall-University of Missouri, 1897
Before online catalogs and barcodes, librarians had to manage library collections and inventory by hand. This 1897 inventory of the General University of Missouri Library contains records of the books, magazines, and journals that belonged to the University. And, as many would suspect, librarians in the 19th century were just as detail oriented as those in the 21st century. The inventory even includes the contents of the "Dark Room" which, among many other things, contained one hatchet, a spittoon, and 40 old Savitars.
This volume also holds a letter written by Walter K. Stone, the University Librarian, which was tucked inside the text block. This letter, written in 1899 to the Executive Board of Curators, notes some library issues and the need for a "competent person" to be employed to help manage the collection.