Although the Cycle of Success typically focuses on the relationships among the Libraries, faculty, and students, the Libraries also contribute to the success of all the communities Mizzou serves. The Libraries are an integral part of Mizzou's mission "to provide all Missourians the benefits of a world-class research university, no matter their age. The fifth graders from Grant Elementary School recently visited the Special Collections Department to get an in-depth look what the department has to offer.
Matt Kuensting and John Nies, fifth grade teachers at Grant Elementary, recognize the importance of community connections, and five years ago, revised their practice to focus on community connections. Since their revision, they have taken their students into the community to observe and cultivate their interests, and one of those stops is to Special Collections. Kelli Hansen, Tim Perry and the Special Collections staff, took the students through three stations based in the evolution of technology, map making, and historical botany books.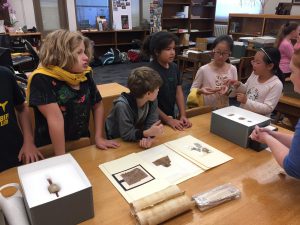 "Ellis Library is one of our first places we visit, and many kids favorite place. These experiences are very impactful for us because our students are currently studying observing organisms like plants, they are making maps of their own imaginative worlds, and technology is one of the biggest integrations in our community project."
We asked John Nies what advice he would give for those interested in using the library: "[The] advice I would give to those interested in using the library is… GO!  Spend some time walking around the displays in the main hall, visit the Special Collections, and wander a bit. The staff has always been helpful. The building itself is fascinating and it holds an eternity of interesting materials."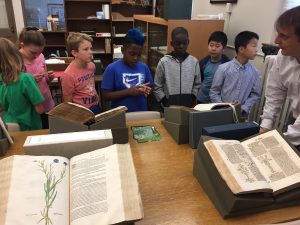 Cycle of Success is the idea that libraries, faculty, and students are linked; for one to truly succeed, we must all succeed. The path to success is formed by the connections between University of Missouri Libraries and faculty members, between faculty members and students, and between students and the libraries that serve them. More than just success, this is also a connection of mutual respect, support, and commitment to forward-thinking research.
If you would like to submit your own success story about how the libraries have helped your research and/or work, please use the Cycle of Success form.
Save