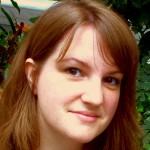 Our popular teaching spotlight series returns this semester with a fresh look at innovative teaching in Special Collections. This month's featured educator is Ruth Knezevich, an instructor in the English department at Mizzou.
SC: Could you tell us a bit about yourself?
I am a doctoral candidate and graduate instructor in the English department. My research focuses largely on in late 18th– and early 19th-century British literature with interests in ballad collections, Scottish Romanticism, and the emergence of "folk" literatures. My dissertation in-progress is on footnotes within ethnographic poetry and novels of this timeframe. When I'm not reading, writing, or teaching, I enjoy spending time outdoors and traveling, especially in and around my native northern Minnesota.
At MU, I've taught a handful of literature-based courses, including English 1000H (Honors Exposition), English 1210 (Introduction to British Literature), English 2100 (Writing About Literature), English 2159 (Introduction to World Literature), and English 3200 (Survey of British Literature, Beginnings through 1784).
In each of these courses – in addition to teaching critical thinking and reading skills – I like to show students that there are more ways to read a book than breaking down the words on the page, and that there is more to literature than just reading a book and looking at the arrangement of words on a page – each book holds a story of the world around it and the readers who have picked it up, read it, and written in it.
SC: How have you incorporated Special Collections into your teaching?
Each semester, I ensure that I bring my classes to visit Special Collections and spend time learning about various aspects of printing history, reading a book as more than just literature, and letting students get their hands on the materials. And frankly, Rare Books and Special Collections adds variety to times in the semester where we're all feeling a little bogged down and need a new and exciting way to approach the text.
One semester, I brought my students in Survey of British Literature to Special Collections as a way to break up the monotony of our class discussion on Renaissance poetry. Alla and Kelli brought out a variety of publications and objects featuring the same poems and authors we were reading in class; students were encouraged to dive into reading the primary materials in their original context, outside of the anthology we were using in class. Suddenly, Ben Jonson and Amelia Lanyer came to life for students as they struggled through the centuries-old typography.
I have also asked my honors composition students to actively read selected from Special Collections as objects, carefully analyzing and writing about their thoughts and findings. Students were asked to choose one of the manuscripts or objects that were displayed during our class's visit to Rare Books and Special Collections, and to spend time with it again outside of class, asking questions of the object, analyzing it, and drawing inferences from their observations of details they might otherwise overlook and then inferring how the book would have been used and who might have used it.
SC: What materials or collections did your students work with?
The various classes I have brought to Special Collections have worked with a wide array of materials and collections, including 19th-century travel writing, publications of Renaissance-era poetry, 18th-century editions of Homer, different antique versions of the Bible, and 16th-century documents addressing the politics of magic and religion.
SC: What outcomes resulted from your class visits? What were the effects on your students?
In addition to submitting some rich essays from the students detailing their findings from their assignments based on Special Collections, students consistently walk away from their visit in awe, inspired to discover what else is held in Special Collections.
One specific moment that will remain with me is when tears began welling up in one student's eyes as she held an 800-year-old book. "I'm a part of this book's history now," she whispered to a classmate standing next to her. Another student, a college senior, said that the days spent in Rare Books and Special Collections were the highlights of her time in college, and that it was a shame that she was just learning about one of MU's most exciting resources right as she was about to graduate.
SC: What advice would you give to colleagues interested in using Special Collections in their courses?
When I set aside a day for my class in Special Collections, I often don't yet know exactly what I want my students to explore. The librarians have consistently helped me figure out the aims and goals of the day's visit, suggested specific materials, provided samples for follow-up assignments, and offered to lead lectures for the class on topics related to the course.
For instance, I recently taught a unit on Christopher Marlowe's play, Doctor Faustus, and I had asked the librarians to pull some resources that could be relevant and helpful in exploring the politics of magic and religion expressed in the play. Little did I know that Alla is actually an expert in Renaissance magic! My students were able to get so much more out of the library session than they ever imagined, and more than I could ever offer.
So, the biggest piece of advice that I would give to colleagues interested in using Special Collections in their courses is to use it! The staff in Special Collections is immensely helpful in putting together a productive and exciting day with demonstrations of the materials and offering suggestions for follow-up assignments.