In a tough economy, it's easy to forget that millions of Americans before our time have struggled as well. Cartoonist John T. McCutcheon's comics show that high unemployment and turmoil in the stock market aren't unique to this generation of Americans.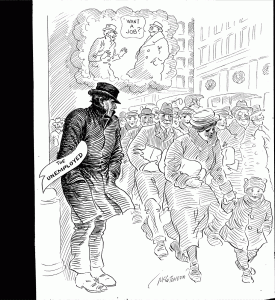 Our McCutcheon comic collection contains original pen-and-ink drawings that date from 1903 to 1944, many of which were published in the Chicago Tribune. While he covered a range of issues of the day, McCutcheon's wit and biting satire shined in his depiction of economic hardships.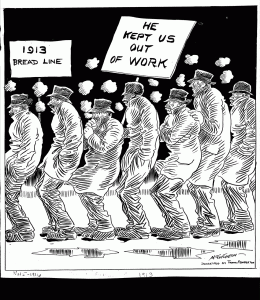 Figure 1 and Figure 2, from 1913 and 1916, both show the depression and struggle of being unemployed. McCutcheon demonstrates his mastery over the medium by using merely a few darker lines to show how isolated and alone his unemployed man is, compared to the happy and joyful families walking down the street.
We've seen a roller coaster ride in the stock market recently, but nothing compares to the Crash of 1929, which led to a decade-long Great Depression. Our last cartoons, Figures 3 and 4, show two instances of men who lost it all on Wall Street, and wonder if they'll ever get it back. Little do they, or McCutcheon know – the worst economic downturn in history is only beginning.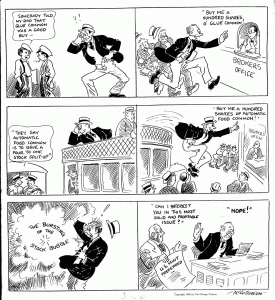 John McCutcheon's comics captured the mood of the day, and sometimes it's surprising how much relevance 100-year old sketches can have to our own time. His entire collection of over 300 cartoons and drawings is available to all patrons.