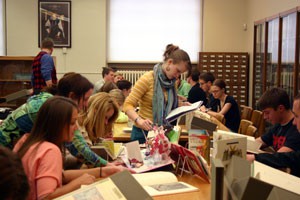 As part of a class session in Special Collections, your students will have hands-on access to the most inspiring and intriguing materials the Libraries have to offer. They will learn research skills that go beyond databases – the ability to track down sources, make connections among documents, and read the content of the page alongside physical evidence. Most importantly, they will discover an enthusiasm and engagement with their subject that will take their studies far beyond their textbooks.
What can we do for you?
Orientations to books, microforms, etc.
Course-specific presentations (your classroom or our reading room)
Individual research consultations (for you and your students!)
Help with assignment development
The collections are diverse, and we can accommodate a wide variety of disciplines. In 2011-2012, class visits included groups ranging from Engineering to English. Browse our spotlight to see the innovative ways your colleagues are taking advantage of our collections and services!
We're here to help. Email SpecialCollections@missouri.edu or call (573) 882-0076 to schedule a session for your class.