Have you seen our latest display in the Bookmark Café? From a distance, these maps–neither paintings nor drawings–look like antique marbleized papers with amorphous shapes in a dreamy blending of lavenders, corals, blues, golds and pinks. But up close another scene is unveiled: villages as they appeared nearly a century ago. Schoolhouses on hilltops. Green plantations on the banks of the Rio Grande river, looking out into Mexico. Islands in lakes. Cemeteries and church buildings. Serpentine trails that wander through the wilderness, terminating at lone cabins. On the south wall, you can visit Las Vegas back when it only had a dozen streets each way, dots indicating buildings.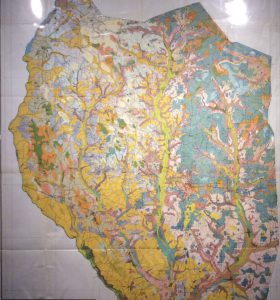 For nearly 100 years, a large collection of these soil survey maps have been folded up and tucked in the back of U.S. Department of Agriculture documents in Mizzou Libraries' Government Information collection. Although the project's purpose was to document soil types and alkalinity, the maps show much more than that.
These maps are generally too fragile to unfold without tearing, but with the help of award-winning preservation specialist Michaelle Dorsey, some maps from a 1923 volume were very carefully opened up and placed inside clear plastic envelopes, custom made in our on-site preservation shop. See the original maps on display now because they are for the most part not available online. However if you want to see one for a different place or year, you can use this guide to discover which areas were mapped on which dates, and we can help you view others in our print collection.