If you've used many materials here in Special Collections, you're probably all too familiar with these little yellow slips of paper. They're our call slips, and until recently, we required all readers to fill one out for each item being requested from the stacks.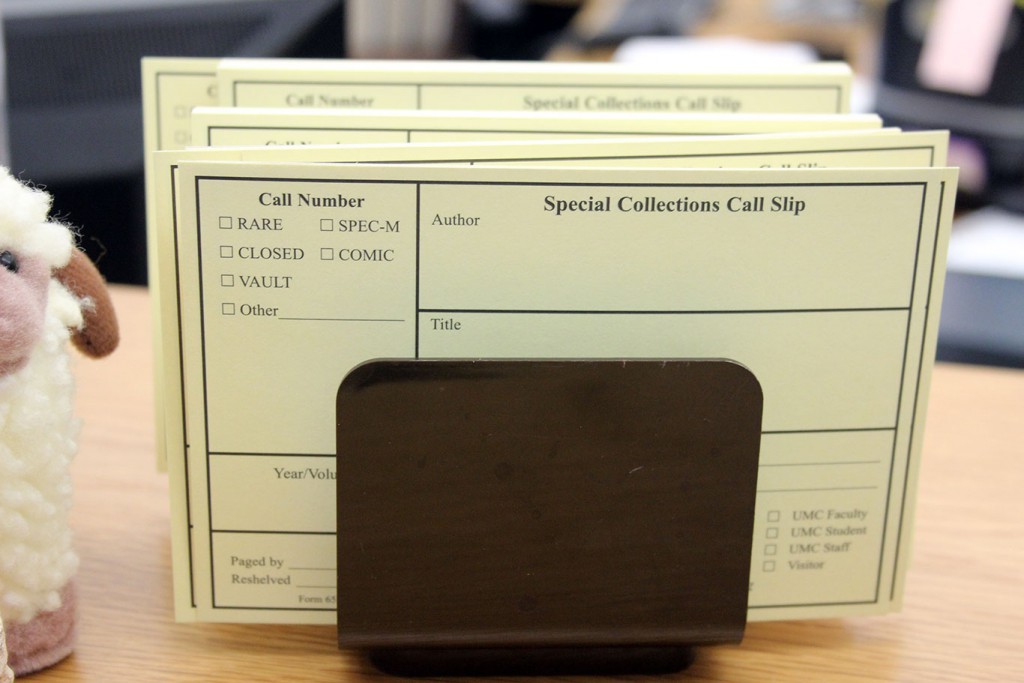 This summer the MU Libraries transitioned over to a new computer system, and we took it as an opportunity to try a new way of requesting and paging materials. Instead of filling out your name and contact information multiple times, you'll be asked to do it once per year, on our new Patron Registration Form (you can even print it out from our website, fill it out in advance and bring it with you to the reading room if you want to save time). On subsequent visits, simply check in at the desk. We'll be able to complete the rest of your request electronically – no handwriting or carbon copies required!
Although we don't yet have the capability to take requests online, you can, as always, email us to place materials on hold. We're hoping that this system will prove easier and more efficient for everyone involved. No more repetitive request writing for you, and no more wrangling thousands of paper slips for us. Our call slip mascots, the Special Collections sheep, might have gotten a little excited when they heard about this.
The new registration system takes effect August 1. Although we've spent weeks practicing and trying to anticipate bugs, we'll probably need your patience as we learn this new way of doing things. Please feel free to contact us with any thoughts, concerns, or problems.