In case you missed it, April is Arab American Heritage Month! We've put together an A-Z list of music, books, poetry and more to celebrate Arab heritage in the United States. Read the first part of this series and join Mizzou Libraries in supporting Arab American voices.
– Rachel Brekhus, Melissa Fayad & Sireen Abayazid (Student worker, DMiL)
Amreeka 
Amreeka is a movie that proves that the American spirit doesn't come with citizenship papers–it comes from the hearts of the people who live there. A family of immigrants, along with a couple of first-generation American teenagers, finds themselves inexorably caught between their heritage and their new home. Can they unite to make themselves a whole American family, or will the various influences on their lives pull them apart? The award-winning film was directed by Charien Dabis and was released in 2009. 

Anton Abdelahad: "Miserlou"
This is one of the oldest renditions of Miserlou/Misirlou (made famous by Dick Dale and later in Pulp Fiction). The Arabic title translates literally to "Come so I can tell you."
Anton "Tony" Abdelahad was born in Boston on July 25, 1915, a child of immigrants from Damascus, Syria. Despite being American-born, he quickly developed a passion and a gift for Arabic music. At the age of fifteen, he embarked on his professional career. During the sixty years that followed, Tony performed throughout the United States and Canada, entertaining his countless fans including such notables as King Saud of Saudi Arabia, for whom he performed privately on a number of occasions. From Boston to New York, Detroit to Montreal and beyond, Tony would travel nearly every weekend to perform at haflat (concerts) and mahrajanat (two and three-day music festivals), often accompanied by such legendary violinists as Philip Solomon or Fred Elias, as well as the great Ronnie Kirby on the darbakka (drum).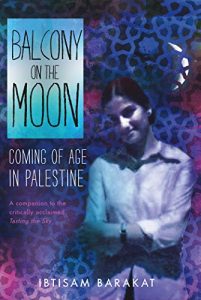 Balcony on the Moon: Coming of Age in Palestine, Ibtisam Barakat 
Picking up where Ibtisam Barakat's first memoir, Tasting the Sky, left off, Balcony on the Moon follows her through her childhood and adolescence in Palestine from 1972-1981 in the aftermath of the Six-Day War. This memoir about pursuing dreams in the face of adversity chronicles Ibitsam's desire to be a writer and shows how she finds inspiration through writing letters to pen pals and from an adult who encourages her to keep at it. But the most surprising turn of all for Ibtisam happens when her mother decides that she would like to seek out an education, too. Enlightening and at times funny, Balcony on the Moon is a not often depicted look at daily life in a politically tumultuous region. — Provided by Publisher
Between Arab and White: Race and Ethnicity in the Early Syrian American Diaspora, Sarah M. A. Gualtieri 
This multifaceted study of Syrian immigration to the United States places Syrians–and Arabs more generally–at the center of discussions about race and racial formation from which they have long been marginalized. Between Arab and White focuses on the first wave of Arab immigration and settlement in the United States in the years before World War II, but also continues the story up to the present. It presents an original analysis of the ways in which people mainly from current day Lebanon and Syria–the largest group of Arabic-speaking immigrants before World War II–came to view themselves in racial terms and position themselves within racial hierarchies as part of a broader process of ethnic identity formation.  — Provided by Publisher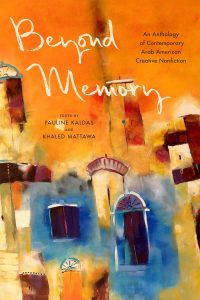 Beyond Memory: An Anthology of Contemporary Arab American Creative Nonfiction, Pauline Kaldas, Khaled Mattawa 
This anthology brings together the voices of both new and established Arab American writers, creating a compilation of essays and creative nonfiction that reveal the stories of the Arab diaspora. Coming from different countries and religions and including first and second-generation immigrants as well as those whose identities encompass more than a single culture, these writers tell stories that speak to the complexity of the Arab American experience. They travel through time and geography to reveal the circular nature of identity, inviting the reader to enter into an ever evolving landscape. At this point in our history, such stories are urgently needed, and this anthology gives greater insight into the lives of Arab Americans. Entering into these personal stories allows readers to engage with the complexity of the Arab American community. The varied experiences of being an Arab American emerges through these pages with astounding vision. — Provided by publisher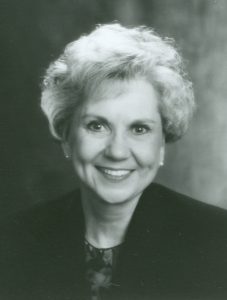 Danner, Patsy Ann (Pat) | US House of Representatives: History, Art & Archives 
Elected to the U.S. House by unseating an eight-term incumbent, Patsy Ann (Pat) Danner carved out a reputation as a moderate, independent Democrat.
Danner became involved in Missouri politics during the 1970s and in 1983 she won election to the Missouri state senate, where she served for a decade. In 1992, Danner was elected to represent Missouri's 6th congressional district in the U.S. House of Representatives, where she served as a moderate-to-conservative Democrat. Much of her legislative work focused on the needs of her district, but she was also a consistent critic of the Clinton administration's foreign policy, particularly its decision to send in U.S. troops for peacekeeping duty in the Balkans. In 1995 she took to the House Floor to oppose a troop deployment in Bosnia, noting she had "grave reservations" about placing U.S. peacekeepers in harm's way when neither side in the civil war had yet accepted the terms of a ceasefire. After being diagnosed with breast cancer in the fall of 1999 and receiving treatment, Danner announced in May 2000 that she would not seek re-election to a fifth term, and left Congress in January 2001. 
Dick Dale: "Nitro"
Richard Anthony Monsour, known professionally as Dick Dale, was an American guitarist and a pioneer of surf music who used Middle Eastern music scales to influence his music. Dale was of Lebanese descent from his father, James Monsour. Leading surf music bands, such as the Beach Boys and the Trashmen were influenced by Dale's music and featured recordings of his songs on their albums. Dale also worked with inventor Leo Fender to develop new electric amplification technology, including the first 100 guitar amplifier. This song, "Nitro," is from his 1993 album Tribal Thunder. 
Ferras: "Speak In Tongues"
Ferras Alqaisi is an American singer-songwriter of Jordanian and Montenegrin descent. Ferras' career began in Amman, Jordan where he learned to make music on a small keyboard. He began pursuing a career in music at the age of 17, and made his major record label debut with the album Aliens & Rainbows in 2008. He has been credited as a songwriter to songs by many major artists including Katy Perry, The Chainsmokers and Dua Lipa. This song, Speak in Tongues, is from Ferras' self-titled EP released in 2014.
Guitar Center Sessions: Dick Dale – Misirlou 
This rendition of Misirlou, recorded by Dick Dale in 1962, was used in Quentin Tarantino's film Pulp Fiction in 1994. Its use to open the film is credited with the revival of the surf music genre in the 1990s. The folk song is popular in Eastern Mediterranean countries, and has origins in the Ottoman Empire. Younger generations may recognize Dale's riff from the Black Eye'd Peas's hit song "Pump It." Another, more traditional version of the song is featured on Dale's 1993 album Tribal Thunder.
Hanine – Arabia, Violin and Dance show 
"The primary idea upon which the video was built was mainly the beat as the music had already been written for a dancer at a club where Hanine used to play the Arabic violin. Upon hearing it, Hanine decided to alter some of its elements, marking a transition from pure dancing beats to a more musical, more oriental violin-oriented piece."