Happy Earth Day!
April 22, 2012 marked the 42nd celebration of Earth Day. The first celebration was a grass roots event focusing on education and legislative responses to pollution and ecological concerns.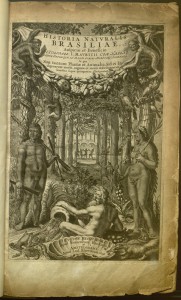 Earth Day gives us a chance to appreciate our planet. In 2012, amazing photos are available from every corner of the globe (and beyond). But what if you lived over 500 years ago? The Americas were full of flora and fauna unknown to Western eyes. Special Collections is home to many volumes that recorded these new discoveries.
Published in 1648, Historia naturalis Brasiliae records the botany and zoology of Brazil. With sections on animals, plants, fish, insects, and tropical medicine, the book introduced a wealth of information about the natural world.
Willem Piso was sent by the West India Company as physician to the governor of the Dutch colony in Brazil. While there, he learned about herbal medicines used by the indigenous people. His knowledge of medicinal plants, local poisons and tropical illnesses is recorded in Historia naturalis Brasiliae.
In addition to Piso's contributions, the Historia contains information gathered by Georg Markgraf on plants, fish, birds, animals, snakes, and insects. Markgraf died before the book's publication. Johannes de Laet edited his notes and illustrations for final publication.
The Historia naturalis Brasiliae is full of illustrations, and many of these were the first representation of animals and plants from the new world seen in the Old World. While some of the volumes were hand colored, Special Collections copy is not.
See the full text of a hand colored copy. This volume is from the collection of the Missouri Botanical Garden.
Click on an image below to see a gallery of selected pages from Historia naturalis Brasiliae.