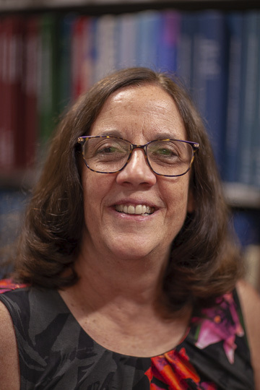 E. Diane Johnson
Librarian IV, Assistant Director, Information Services and Resources, J. Otto Lottes Health Sciences Library
Health Sciences and Specialized Libraries (HSL)
Master of Arts, Library Science, University of Minnesota
Bachelor of Arts, Radio-TV-Film & Library Science, University of Wisconsin-Oshkosh
Contact
HSL212 Health Sciences Library
(573) 882-6142
Student Appointments
About Me
I can help you at all stages of the research cycle from idea to publication and beyond, including:
assistance in getting clinical warehouse data
constructing search protocols for research teams conducting systematic and scoping reviews
identifying publishing venues to ensure high impact and visibility
tracking the impact of your publications
Note to busy clinicians: "If you've spent more than 10 minutes trying to find something in the literature, give me a call."
Read more
:
Cycle of Success Articles
Grants/contracts/projects
Co-Investigator, Self-care interventions meta-analysis for heart failure (SCIMA-HF). American Heart Association 17GRNT33670278, 2017-2018.
Co-Investigator, 1-R01-NR0011990, Meta-Analysis of Interventions to Improve Medication Adherence, 2010-2014.
Co-Investigator, 1-R21-DA024749-01A2, Optimal Treatment Recovery Frameworks for Women with Substance Abuse Problems, 2009-2012.
Co-Investigator,1-R01-NR009656-01, Meta-Analysis of Interventions to Increase Exercise/Physical Activity, 2006-2009.
Co-Principal Investigator, Missouri Go Local, April 1, 2005-March 31, 2006, $24,239.
Leader, Project Team, Design and evaluation of a personal digital assistant-based alerting service for clinicians. Funded in part by NLM IAIMS grant G08 LM05415-07.
Nothing but Net: An Internet Search Assistant. Innovative Internet Training Grant from National Network of Libraries of Medicine – Midcontinental Region, 1997. Project description available at: https://web.archive.org/web/20050227220556/http://www.missouri.edu/~hsldiane/mlati.htm
Investigator, 2-R01-LM04605-06A1, Retrieval from full-text medical databases. NLM research grant, 1993-1997.
Recent Publications and Presentations
Publications
Previous Experience
Head of Information Services, J. Otto Lottes Health Sciences Library
Public Services Librarian, J. Otto Lottes Health Sciences Library


Subject Specialty
Areas of Expertise
Expert Searching
Systematic Reviews
Research Support
Publishing
Evidence Based Practice
Cycle of Success Stories
In The News