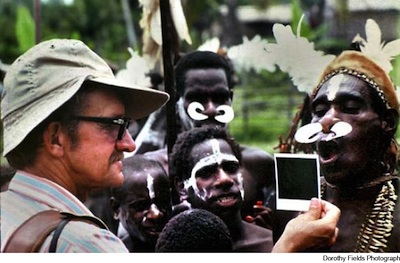 The Jack and Dorothy Fields Photojournalism Book Collection
Jack and Dorothy Fields were partners in life and partners in journalism. A travel photographer/writer team, they worked extensively in the South Pacific, and also in Europe and Scandinavia, as well as other places around the world.
As a young boy in Kansas, Jack Fields dreamed of "far-away places with strange sounding names." After a formal education and a wartime stint in the South Pacific, Fields contracted tuberculosis. While recuperating from TB he contracted on assignment, he met Dorothy Gindling, also a patient and fellow TB sufferer, whom he married in 1948. Dorothy was a writer and complemented Jack's photographic storytelling. They embarked upon a 50-year career, traveling on assignment for Collier's, Saturday Evening Post, National Geographic, Smithsonian, Look, and Life.
The Fields became known for their ability to find interesting, yet untold stories, especially in the South Pacific. In 1971 they approached a Japanese publisher with an idea for an all-encompassing book on the region, which became their 1973 book South Pacific.
Fields was the first photojournalist to report on Micronesia after it became a U.S. Trust at the end of WWII. His photograph of a laser pioneer at the Stanford Linear Accelerator Center was used as a reference image for a commemorative stamp issued by the U.S. Postal Service in August 1999. Fields was founding chairman of the San Francisco Bay Area chapter of the American Society of Magazine Photographers in an era when Wayne Miller, Ansel Adams, Dorothea Lange and Imogen Cunningham were members of the organization. "
From an excerpt about the Fields' life and work, created by Journalism Master's Student, Jonathan Stephanoff, for his curated multimedia exhibit, "South Pacific" at the McDougall Center Gallery at the Missouri School of Journalism, Spring 2013. Take a look at Stephanoff's video profile of Jack and Dorothy Fields in their own words. His Professional Project on Jack & Dorothy Fields is now available through MoSpace
To see a list of the titles in the collection go here: Jack And Dorothy Fields Photojournalism Collection University Of Missouri Columbia Libraries