Points of Interest
Ellis Library: First Floor: Digiprint
Digiprint
:
The Digiprint center
is the only place in the library that has self-service photocopy machines except for Special Collections which has a machine to make print copies from microfilm. Other services are full-color copying, enlargements, reductions, microform copying, special papers, transparencies and fax service. Regular copying costs 5 cents per page. You can pay by cash, check or charge to your student ID. This room also hosts the book sale. You'll find fiction, nonfiction, children's books, and many other types of literature on sale here.
As of June 1, 2018,
DoIT will be moving the
Plotter Printer/Poster Printer
to
Copy Services (DigiPrint)
located by the north entrance of Ellis Library.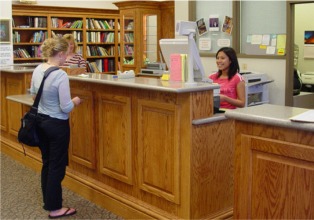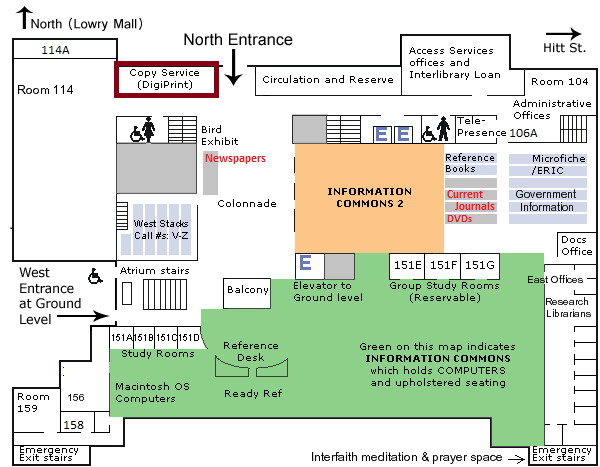 Looking for?
| | | | | |
| --- | --- | --- | --- | --- |
| Places to Study | Services | Departments | Collections | Rooms |
| | | | | |
MERLIN locations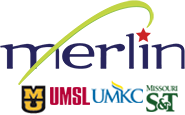 Ground Floor
Ellis Library: Ground Floor Map Updated: 12/4/2014
CLICK MAP AREAS FOR MORE INFORMATION
1st Floor
Ellis Library: First Floor Map. Updated: 8/25/2015
CLICK MAP AREAS FOR MORE INFORMATION
2nd Floor
Ellis Library: Second Floor Map Updated: 12/4/2014
3rd Floor
Ellis Library: Third Floor Map Updated: 2/11/2015
4th Floor
Ellis Library: Fourth Floor Map Updated: 12/4/2014
Call Numbers in Ellis
Video Tour
| | | | | |
| --- | --- | --- | --- | --- |
| Ground Floor | 1st Floor | 2nd Floor | 3rd Floor | 4th Floor |
| | | | | |