Dissertations & Theses
Find MU Dissertations & Theses
Current Research @ MU
Access full-text online dissertations written at MU 1995-present
Graduate School Electronic Theses and Dissertations in MOspace
Allows you to search and browse electronic theses and dissertations submitted by MU graduate students.
Full text of theses and dissertations approved for release are available through this archive (2004-date), as well as public abstracts submitted on paper.
May contain more recent dissertations than Current Research@MU
MERLIN Catalog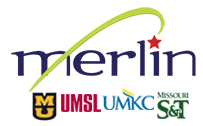 Search by author or title.
Most print MU dissertations are housed off-campus. Use the Request Item feature to order.
Borrow a Dissertation

Logon to ILL@MU  and fill out the "Thesis/Dissertation Request" form.
If the dissertation/thesis is available for loan:

It will be requested for your use as any other Interlibrary Loan item

If the dissertation is "in use" or "not on the shelf"

You will be notified and your request will be cancelled
You will be asked to resubmit a second request on a future date

If the dissertation is not available for loan

ILL@MU will purchase a single use PDF version of the dissertation/thesisfrom ProQuest, if available

We are unable to purchase every dissertation that is not available for loan due to budget constraints.

If you live outside of Columbia, follow these directions to have the items mailed to you:

In the Notes field of the ILL Request form, enter MU Distance Learning Student to indicate the item is to be mailed to you.  Include your address to expedite the processing of the request.

MU Distance Learning Student YOUR ADDRESS: 110 Abbey Lane St. Louis, MO 63123
Find Dissertations & Theses from other Institutions
ProQuest Dissertations & Theses A&I
 (also known as Dissertation Abstracts)
Dissertations published from 1980 forward include abstracts written by the author.

Search by keyword, author, advisor, institution and many other fields.
Coverage: 1861-date

Master's theses published from 1988 forward include 150-word abstracts.
A select number of titles include free 24 page previews.
Request dissertations through Interlibrary Loan (ILL@MU).
Google Scholar 

Many universities are now making theses and dissertations freely available through their digital repositories, similar to MU's MOspace.  If you know of a non-MU dissertation or thesis and want to find the full-text, search Google Scholar.
For best results, put quotation marks around the title.
Open Access Theses and Dissertations (OATD)
Networked Digital Library of Theses and Dissertations (NDLTD)
Search engine for electronic theses and dissertations (ETDs), whether they are open access or not
Discover@MU
Enter search terms and select Dissertation/Thesis as Content Type.