Finding Information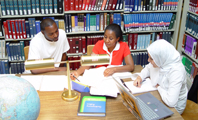 The MU Libraries have many guides and step-by-step instructions on how to find information in the library.
How to find books and journal articles provide detailed explanations for these essential research skills.
The subject librarians have written numerous research guides by subject and guides for specific courses. Consult these pages to determine what guides are available in your academic major.
The Homework and Research Guide lists useful links including How to Write and Cite Sources and includes information on the new Research Assistance Program (RAP) service which will allow you to make a one-on-one meeting with a librarian for in-depth research consultation.
The Show Me How To web page includes specific answers to commonly asked library questions such as how to locate maps, statistics, dissertations, textbooks, and other items.
Finally, if you wish to watch videos on finding library information, click on one of the many choices from the Tutorials and Videos page.