Message from the Vice Provost for University Libraries and University Librarian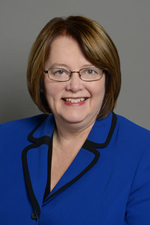 We are pleased to have you visit our website, a portal not only to electronic information but to a whole new kind of learning environment. Here you will find connections to a vast array of resources: electronic journals, subject resource guides, online course reserve materials, and library staff.
We invite you to explore this site and discover for yourself why we think of the Libraries as the heart of the University. From the main collections of Ellis Library to our several branch locations, the MU Libraries lie at the very core of teaching and research excellence here at Mizzou. We believe you will agree with us when we say that the MU Libraries are where ideas of the ages are uncovered, and where dreams for the future are forged.
Ann Riley

Vice Provost for University Libraries and University Librarian