Borrowing Services for Undergraduates
Material Type
Loan Period
Renewals
# of Items
MU Books
4 month
2

250 – combined total check outs

UM Books (MST, UMKC, UMSL)
1 month
2
Print Journals
2 week
1
UMLD Journals (MU, MST, UMKC)
2 week
1
Government Documents
30 day
2
Equipment
Varies
0
DVDs in Ellis Library
10 days
0
DVDS in other campus libraries
varies
0
MOBIUS Books
4 week
3
20 – combined total of MOBIUS book check outs and hold/requests on MOBIUS books
Prospector Books
3 week
1
Interlibrary Loan
2 week, but varies by lending institution
Contact Interlibrary Loan prior to due date
882-1101
882-0467 HSL*
Unlimited
NOTE: *HSL in the above table refers to the Health Sciences Library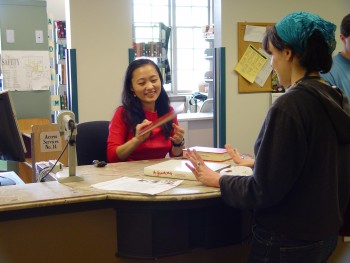 Can I access my library account online?

Use your pawprint and password to access your account.

My instructor put something on reserve, how do I get it?




Visiting other MOBIUS libraries

MU students who are in good standing (no billed books or unpaid fines or blocks on their circulation record) may go to any other MOBIUS library and present their MU ID card and borrow books held in those libraries, if they are "Available" in the MOBIUS catalog.