Kate Anderson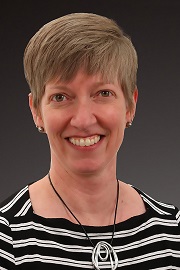 Librarian IV, Head, Zalk Veterinary Medical Library | Interim Assistant University Librarian for Science Libraries
Health Sciences and Specialized Libraries (HSL)
Master of Arts, Library and Information Studies, University of Wisconsin-Madison (2000)
Master of Arts, English, University of Wisconsin-Madison (1994)
Bachelor of Arts, English, Colorado College (1992)
Contact
W218 Vet Med Bldg
(573) 882-6259
AndersonKat@missouri.edu

Student Appointments

About Me
Kate Anderson, Head of the Zalk Veterinary Medical Library and interim Assistant University Librarian for Science Libraries, has been at the University of Missouri since 2005. At Mizzou and previously at the University of Wisconsin, she has worked in a number of academic libraries – education, pharmacy, engineering, health sciences, veterinary—a variety that has spurred a deep interest in interdisciplinary collaboration and communication. She earned her bachelor's degree at Colorado College and her graduate degrees at the University of Wisconsin (MA in English; MA in Library and Information Studies).
Publications and Presentations
Publications
Reeves LA, Anderson KM, Luther JK, Torres BT. Treatment of idiopathic chylothorax in dogs and cats: a systematic review. Veterinary Surgery. 2020;49(1):70-79. Epub 2019 Sep 11. doi: 10.1111/vsu.13322. PMID: 31508821.
O'Connor AM, Anderson KM, Goodell CK, Sargeant JM. Conducting systematic reviews of intervention questions I: Writing the review protocol, formulating the question and searching the literature. Zoonoses and Public Health 2014;61 Suppl 1:28-38 doi: 10.1111/zph.12125. PMID: 24905994.
Alpi KM, Burnett HA, Bryant SJ, Anderson KM. Connecting knowledge resources to the veterinary electronic health record: opportunities for learning at the point of care. Journal of Veterinary Medical Education 2011;38(2):110-22. doi: 10.3138/jvme.38.2.110. PMID: 22023919.
Budd JM, Coble ZC, Anderson KM. Retracted publications in biomedicine: cause for concern. Association of College & Research Libraries National Conference Proceedings 2011;390-95.
Ugaz AG, Boyd CT, Croft VF, Carrigan EE, Anderson KM. Basic list of veterinary medical serials, third edition: using a decision matrix to update the core list of veterinary journals. Journal of the Medical Library Association 2010 Oct;98(4):282-92. PubMed PMID:20936066; PubMed Central PMCID: PMC2947140.
Jacobs ZD, Guajardo JR, Anderson KM. XLA-associated neutropenia treatment: a case report and review of the literature. Journal of Pediatric Hematology/Oncology 2008; 30(8):631-634. PubMed PMID: 18799945.
Presentations
Anderson K, Kiscaden E, Strayhorn N, Traditi L. Early career panel. Joint MCMLA/MWMLA Virtual Meeting 14 Oct 2020. Invited Panelist.
Reeves L, Torres B, Anderson K, Luther J. Idiopathic chylothorax: a systematic review. ACVS Surgery Summit, Residents' Forum (Las Vegas, NV) 17 October 2019.
Reeves L, Torres B, Anderson K, Luther J. Treatment of idiopathic chylothorax in dogs and cats: a systematic review. 42nd Annual CVM Research Day (Columbia, MO) 10 May 2019.
Grey G, Anderson K. Innovate with information: entrepreneurship resources in UM Libraries. Entrepreneurial Educators Summit (Columbia, MO) 5 April 2018. Invited Speaker.
Anderson K, Gutzman KE. The evolving role of the library in institutional and faculty assessment: a discussion of research metrics. Technology Showcase presentation at the Medical Library Association Annual Meeting (Seattle, WA) 30 May 2017. Invited Speaker.
Professional Associations
Medical Library Association
Animal and Veterinary Information Specialists Caucus of the Medical Library Association
Midcontinental Chapter of the Medical Library Association
Evidence-based Veterinary Medicine Association
Previous Experience
Wendt Engineering Library, University of Wisconsin – Madison
Health Sciences Library: Pharmacy Library, University of Wisconsin – Madison
Center for Instructional Materials and Computing, University of Wisconsin – Madison
Subject Specialties

Areas of Expertise

Clinical Librarianship
Evidence-based Practice
Animal Alternatives Searches
One Health
Scholarly Metrics
Open Access
EndNote
Editorial Board Member

Journal of the Medical Library Association