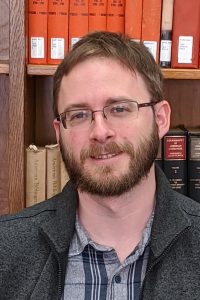 John Henry Adams
Librarian I, Research and Instruction Librarian
Special Collections
UASCDS, Rare Books & Special Collections
Master of Library Science, Indiana University, 2019
Ph.D., English Literature, Arizona State University, 2015
Master of Arts, English & Comparative Literature, University of Cincinnati, 2010
Bachelor of Arts, Comparative Literature, St. Mary's College of Maryland, 2007
Contact
408 Ellis Library
(573) 882-1821
Student Appointments
About Me
I started on my path to librarianship during my PhD in English literature at Arizona State University, where I wrote a dissertation focusing on representations of books in sixteenth-century England. I then attended Indiana University for my MLS with a specialization in rare books and manuscripts. After completing my studies, I came to work here in Special Collections at the University of Missouri. I co-teach class sessions, working especially with faculty from the English and German & Russian Studies departments. I additionally provide assistance to patrons in the reading room and prepare exhibits highlighting the collections at the Special Collections.
Recent Publications and Presentations
Publications
Adams, John Henry. "Isabella Whitney and Textual Identity." In New Ways of Looking at Old Texts, VI, edited by Arthur Marotti, 75-96. Tempe, AZ: Arizona Center for Medieval and Renaissance Studies, 2020).
Review of Numbered Lives: Life and Death in Quantum Media, by Jacqueline Wernimont, Information & Culture 55, no. 2 (2020): 196-197.
McAllister, Lorrie and John Henry Adams, "Designing a Bright Future for Print Collections." Against the Grain (June 2018): 32-33.
Review of The Self as Subject: Autoethnographic Research into Identity, Culture, and Academic Librarianship, edited by Anne-Marie Deitering, Robert Schroeder, and Richard Stoddart, portal: Libraries and the Academy 18, no. 2 (April 2018): 237-238.
Professional Associations
American Library Association
Association of College and Research Libraries (Rare Books and Manuscripts Section)
Areas of Expertise
History of the book (esp. European and North American)
History of cartography
Medieval manuscripts
Hand press printing
Early modern and medieval British literature
German medieval literature
Rare books reference and bibliography