Professor Homer L. Thomas
The University Libraries remember Professor Homer L. Thomas and his many contributions to the Libraries.
The following obituary was supplied by the Department of Art History and Archeology and was previously published in the AHA Newsletter, Number 8, Summer 2003. We thank Marcus Rautman, Department Chair, for sharing this with us: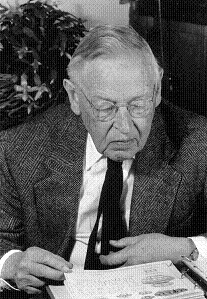 Homer Thomas (1913-2003) Homer Thomas, Professor Emeritus of Art History and Archeology, was born in Kansas City, Missouri, in 1913. He attended the University of Chicago, the Warburg Institute in London, and the Johns Hopkins University. He completed his studies and received his Ph.D. from the University of Edinburgh in 1949. He worked at the Asia Institute of New York City and the University of Michigan before coming to the Department of Art at the University of Missouri in 1950. Homer Thomas and Saul Weinberg were instrumental in re-establishing the Department of Art History and Archeology as an independent academic unit in 1960. Professor Thomas taught courses in Oriental Art and Civilization I-II, European Art and Archeology I-II, Roman Provincial and Early Christian Art, and Art of the Dark Ages. He supervised the writing of eighteen masters theses and four doctoral dissertations.
Throughout his years in Columbia he played an important role in building the collections of Ellis Library, including the superb holdings in the fields of archeology and art history. He cared so much about the quality and depth of the MU Libraries' collection that he used to travel to Europe in the summers at his own expense, scouring bookstores and calling on antiquarian book dealers to acquire for the library missing items, based on his vast and detailed knowledge of the library holdings and the gaps in them.
He retired from the university in August 1984. In retirement he moved to the Washington, D.C., area and he died in Maryland in May of this year. Over the course of his long career Professor Thomas participated in archeological fieldwork in Yugoslavia, Poland, and Luxembourg. He wrote the two-volume Near Eastern, Mediterranean and European Chronology (1967), and four fascicles of A Handbook of Archeology: Cultures and Sites: North Africa, Egypt, Southwest Asia, Mediterranean, Northwest Europe, Northern Europe, Central Europe, Southeast Europe, Eastern Europe, Western Asia (1993-96) in the Studies in Mediterranean Archeology series. A festschrift in his honor, Horizons and Styles: Studies in Early Art and Archeology in Honour of Professor Homer L. Thomas, appeared in 1993. Professor Thomas was a fellow of the Society of Antiquaries of Scotland, the Society of Antiquaries of London, and the Guggenheim Foundation.
---
We Remember Homer Thomas: During the 1960's and 1970's, Dr. Thomas made annual summer trips to Europe, Asia and other areas abroad visiting museums, archeological sites, and doing research. While on those trips, Dr. Thomas purchased many volumes that now make up the research collections in the MU Libraries. He is fondly remembered by those librarians and colleagues who worked with him during his long tenure at MU. Some of those remembrances relating to his contributions to the MU Libraries are below.
---
Homer Thomas built one of the best academic libraries devoted to Old World archeology and art in the country. Its importance was recognized when our holdings in Iberian archeology so impressed the future Director of Archeological Service of Southern Portugal that the Department of Art History and Archeology was able to mount an excavation there in the 80's. Homer's contribution also extended to students and faculty. His library tours were a highlight for beginning graduate students, visitors, potential hires and new faculty (including the undersigned!). William Biers, Professor Emeritus
---
Homer was so good about sharing his extensive knowledge of the collection. He volunteered to "walk the stacks" on a regular basis with Alma Bennett (Social Science Librarian) and me (Geography, History and Philosophy librarian) when I first started working as a reference librarian. His help was invaluable, and his memory of where he purchased various works for Ellis Library was most impressive. I think we used to just give him a book bag and send him to Europe for acquisitions. Anne G. Edwards, Humanities Librarian
---
Homer Thomas loved the University Library and he knew its collections intimately, not only those in his own field. I recall his telling me, as a quite new faculty member in Mathematics, about the gaps in the Mathematics journals, a field far from this own. He often enjoyed taking prospective new MU faculty through the library to be sure they understood what a good research library this was. He spent summers in Europe at his own expense, much of the time browsing in bookshops to look for and ship home items needed for the MU Libraries. His devotion to the strength of the library as a major resource for MU teaching and research was remarkable. In addition to that, he was a learned scholar in ancient art history and culture. I sat in on his final year of an overview class in prehistory; I will never forget his intimate acquaintance with each of the many cultures in the various isolated valleys of Yugoslavia before the dawn of history. He connected us all with a past beyond our imagining. He was a model teacher-scholar for me and certainly a model of a faculty member devoted to the long-term well-being of his university's library. Mel George, Professor Emeritus
---
When I came to the MU Campus for an interview in the Spring of 1964, one of several amazing things that happened was a tour of the collections in the Library conducted by Homer. It was not just a quick look and see, but went on for over an hour walking up and down stacks. I was used to good libraries, having done my graduate work at Yale and having often used the Avery Library at Columbia University, the world's preeminent collection in my field of architectural history. But Homer showed me things I had only heard about. I knew at once that this was a paced that valued serious research, and I accepted the position I was offered. In the next few years I learned about the extraordinary role Homer played in building the library collections here, and I learned that my tour with Homer was not unusual. In fact, other departments regularly asked Homer to take their candidates on the library tour, as well. Eventually, after I became a departmental chairman, I saw how useful the shrewd judgments that Homer would make of the various candidates in the course of showing them our library, could be. The Homer Thomas library tour wasn't a sales pitch, it was a rigorous if imperceptible examination. Osmund Overby, Professor Emeritus of Art History and Archeology University of Missouri-Columbia
---
I worked with Homer Thomas from 1984 to 1991. Although he was retired and beginning to withdraw from this work in the University of Missouri Libraries, I had the honor of working with the rich collection he built and privilege of knowing the architect and builder of that collection. I remember interviewing and taking the job of what I thought of as the Art and Archeology Librarian but many thought of as the librarian for Homer's collection. A collection that has international significance. One Friday night I took a scholar from France to the Annex. She would only be in town a few days and only had this rainy Friday evening free. I still remember her little shouts of joy as she found information she had sought for her entire career. Homer Thomas will live forever as scholars find missing bits of information and fill in the puzzle in their work for generations to come. It was an honor to know him and an honor to be the custodian of what he built one book at a time. Bonnie MacEwan, Assistant Dean for Collections and Scholarly Communication University Libraries The Pennsylvania State University
---
I arrived at the University of Missouri Libraries in 1982…my first position as a Director of a major research library! While many things impressed me about the University, there was no doubt that the Libraries' collections were exceptionally strong and reflected the extraordinary care with which librarians and key faculty developed and nurtured them. One of the faculty who took a particular interest in building the collections was Professor Homer Thomas. I used to see him almost every day perusing the book stacks, checking holdings against one or more bibliographies or book dealer catalogs. When he spotted me making my rounds of the book stacks, he often suggested we go to the coffee stand in the basement of Jesse Hall to continue our discussion on the needs of a particular collection or research area. Homer was very generous with his time and became the best mentor that a librarian could hope for. When he retired from the University, we remained in contact and had some memorable visits together when he relocated to the Washington DC area. His personal library was donated to his alma mater, the University of Edinburgh. But before donating it, Homer knew that the costs of cataloging such a collection (many foreign language titles) would be quite high. Consequently he arranged to have it fully cataloged before it was shipped to Scotland! A final gesture so typical of his understanding of and commitment to university libraries. Thomas Shaughnessy, Library Director, University of Missouri, 1982-89
---
In the early 1970's I was a Roman Archeology major at the University of Missouri. Dr. Homer Thomas was my instructor for several classes, but the class I remember most was the tour of Ellis Library. He was "on a terror that day" and met us on the top floor at the Art History and Archeology Library. We didn't even have a chance to deposit our coats before he was off and running down the stacks pointing out various places where we should look to find information. Of course, he went way too fast for us to write any of this down and then he charged down to the history library stacks on a lower floor with all of us students following like a bunch of chickens behind a mother hen. By the end of the day I was convinced that I would never find my way around Ellis Library. But I kept on going back to the library and rummaging through the books and eventually everything Dr. Thomas had said began to make sense. By the time I graduated in 1973, I could find any book on any floor on any subject. I have been to some of the biggest libraries in the world and done research and none of them have scared me thanks to Dr. Thomas. If you listened and did what he said you can find your way around any library anywhere. I also remember taking an 8:40 class under him on a freezing January day when all of us where almost frigid from the cold. Dr. Thomas snorted that we didn't know cold. We should go to Scotland where you had to wear academic robes in the lecture hall to keep warm. Now that was cold he said. Another days some of the female students were griping about equal treatment at MU. Dr. Thomas said that no woman in the 1970's knew anything about being a feminist. We should have met his mother-in-law who at the turn of the century was riding camels in Turkey. Now there was a feminist!! I was never certain how that fit into Early Medieval Art, but I have always remembered that statement. His first wife always reminded me of my grandmother. She wore sparkly hair nets and was always perfectly dressed when we attended banquets. I always wondered about her mother riding camels in Turkey, but I never had the nerve to ask her… Maryellen H. McVicker, Ph.D.
---
As a graduate student in European archeology, I have the privilege to use the collections developed by Homer Thomas. I have ready access to one of the world's largest gathering of materials relating to the archeology of the continent. Of particular importance are the collections of site reports published in limited number, often by small presses. Such works are nearly impossible to access outside their home countries. Another great asset is the set of regional archeological journals, including county publications from England, city museum serials from Germany, and French bulletins of small research institutes such as those of the Dordogne and Brittany. Archaeologists from MU have worked in Europe for decades, and the collection built by Homer Thomas and Elmer Ellis was critical part of that tradition. I feel proud to be part of a long and rich heritage. All care must be taken to preserve and expand the collection for the next generations of European archeologists trained at MU. George (Sam) Kincaid, III Doctoral Candidate Department of Anthropology, Old World Archeology Track
---
Being sort of eponymous, I have always loved to read, but it was Homer Thomas who convinced me of the importance of books and libraries. He was a mentor to me when I was the Art, Archeology & Music Librarian in Ellis Library from 1971 to 1983, and he was my professor when I was in graduate school at MU. He introduced me to research on rare books in the field of art history working in tandem with his colleague, Professor Hellmut Lemann-Haupt. When I became the AAM librarian, Homer and his beloved wife Freddie took me under their wing. His dedication to the library seemed to know no bounds in terms of time and energy. He took enormous pride in the collection, giving fascinating erudite "grand tours" through the stacks. These were both exhaustive and physically exhausting. With equal amounts of enthusiasm for single visitors and who classes Homer would hold forth with fascinating tales on the contents of books and how they came to Missouri. Wonderful sagas began with the words, "when I was chairman of the library committee." He pulled out books as if he was collaring old friends. Stops on the tour were never the same. His prodigious knowledge of western intellectual history ranged over the humanities, social sciences, and the sciences. When I see them, certain books always remind me of him, particularly French provincial journals and the antiquarian society publications. Marcia Reed Head, Collection Development Getty Research Institute
---
The story I remember is that after World War II, Homer was given a blank check to pay for anything he found in Europe that he thought we should have. Most of what he got were long runs of serials, especially in the art, art history and academia areas. He purchased from "anyone" who needed U.S. money and had what he wanted. I was told he purchased a number of rare modern art magazines that went to rare, many series that started Academia de…Annales, etc. I'm told that our numismatic (coin) publications came from that purchase time. I'm told he made more than one trip. He knew people and knew where he could get what he wanted. Linda Lyle, Retired Librarian 1965-2000