We are excited to announce that starting today and running through the end of the semester, our existing Scan & Deliver service is now only a click away!

You may have noticed a new button under an item's location in the MERLIN catalog:
Once 'Request Item' is clicked, a new pop-up window will display allowing members of the MU community to request either the delivery of a scanned item from the book–such as a specific journal article, chapter, or any part of other printed publications found in the university libraries–or to simply request that ILL@MU place a hold on the whole book for you!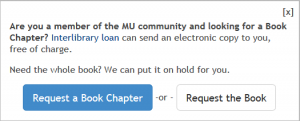 Not all library resources are available through this special pilot project, but it does include materials from all campus branch libraries as well as the off-campus book depositories. For more information on our Scan & Deliver service, please see ILL@MU's Scan & Deliver page.
We feel that this will be a great addition to our existing Scan & Deliver service, requesting articles via Twitter using #MizzouPDF, and of course receiving articles from the many databases available through Find it@MU. Please give it a try!