2022 has come to a close, but the Digital Initiatives department at the University Libraries is looking back. This past year offered exciting changes and developments in Digital Initiatives, which we look forward to exploring even more in 2023. But before moving on to a new year, our department is excited to review everything we have achieved in 2022. Here are some of our proudest accomplishments of this last year!
1. Introducing Digital Initiatives: 
This year saw big changes for our department, formerly Digital Services. In 2023, we look forward to continuing our transition to Digital Initiatives, which will focus on our MOspace and Digital Library sites, as well as the implementation of FOLIO throughout the University Libraries. Steven Pryor, formerly the Head of Digital Scholarship, will assume the role of MU's Head of Digital Initiatives.
2. Welcome Student Workers: 
Digital Initiatives was thrilled to welcome five student workers to our department this year– three undergraduate students, one graduate student, and a student intern during the spring semester. Our student workers are a vital component of our department and provide excellent support to our digitization projects and online content. Thank you to Abbie, Emma, Felix, Riteesh, and Becca for your hard work this year!
Here are some projects that the students have worked on in 2022: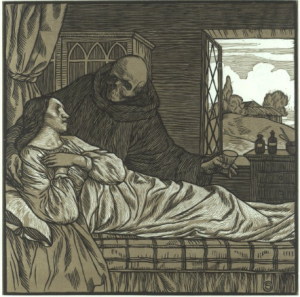 The Doings of Death: 
In the spring, our intern Becca helped scan various materials for an exhibit with the Special Collections department. An item apart of this exhibit, The Doings of Death, has been uploaded to our Digital Library and can be viewed here: The doings of death… . This portfolio dates back to 1901 and contains gripping illustrations, each portraying a different image of death.
Course Catalogs: 
Our catalog collection in MOspace has more than 400 digitized and born-digital catalogs, including general catalogs for the whole university and different schools and colleges. Our student workers have been hard at work this year helping us add to this growing collection, which is free for you to browse: University of Missouri course catalogs (MU)
3. Personnel changes: 
This year offered new additions to our department! We welcomed new staff member Danielle to our team of four, and we were excited to have long time staff member Britany transfer into a full-time position in Digital Initiatives.
4. Digitization of Rare and Special materials to the Digital Library:
Every year, our department focuses greatly on expanding online content for our MU community. Many of our projects include digitizing rare materials, which we upload to our Digital Library. MU's Digital Library is a platform that provides our University's students, faculty, and staff a secure site to view unique digital content. This year, we were pleased to work on various rare materials that are now freely available to view.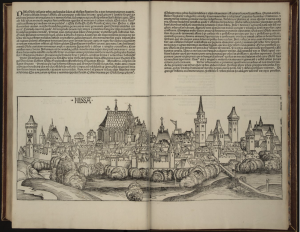 The Nuremberg Chronicles: 
This rare item, dating back to 1493, includes a collection of illustrations such as portraits, scenic townscapes, and maps of cities and buildings. It is now available to view on our Digital Library site: The Nuremberg Chronicles

Cartas Ejecutorias: 
These documents were created in Spain during the late 1400s to 1700s and were used to confirm a person's noble status for tax and legal purposes. The original copies are still preserved in the royal archives of Valladolid and Granada, Spain. This year, we were excited to add 15 Cartas to our collection on MU's Digital Library. Cartas Ejecutorias | MU Digital Library, University of Missouri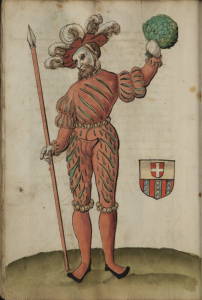 Nuremberg Schembart book:
This book includes hand-drawn illustrations of unique costumes and floats from a famous parade in 1524. You can peruse these one-of-a-kind illustrations here: Nuremberg Schembart book
5. New Additions to MOspace:
MOspace is an online repository that houses creative and scholarly works from MU's staff, faculty, and students. Through MOspace, these resources are freely available and archived for future preservation. In 2022, Digital Initiatives uploaded over 2,000 items to our MOspace collection, December being our most impressive month with 507 uploads. We look forward to only increasing our ever-growing MOspace collection in 2023! These are some of our favorite additions to MOspace this year: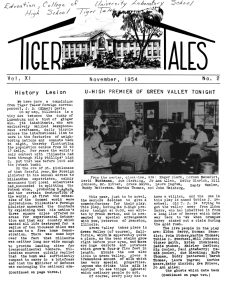 University High School newsletters:
Per the request of Archives and the University High School's alumni, physical copies of two historic newsletters were loaned to Digital Initiatives for digitization. Both of these newsletters, Tiger Tales and The Dixieland Press, document student content from University High School beginning in 1946 and ending in 1973.
Tiger Tales: Tiger Tales (MU)
The Dixieland Press: The Dixieland Press (MU)

Theses and Dissertations:
Since 2006, MOspace has been the online repository that houses MU theses and dissertations. This year, our department added 309 dissertations and 148 theses, resulting in a total of 457 additions to the ever-growing collection of 10,200 ETDs. We look forward to adding the Summer and Fall 2022 ETDs in early 2023.  Theses and Dissertations (MU)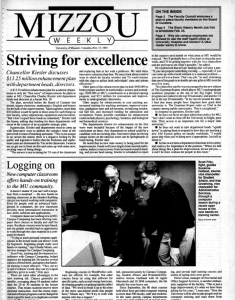 Mizzou Weeklys: 
Mizzou Weekly is a newspaper that was published for the University's faculty and staff from 1979 to 2015. The newspaper started as a printed publication before transitioning to online format in 2009. Currently, our MOspace collection contains 36 volumes, freely available to view: Mizzou Weekly (MU)
A special thank you to Kris Anstine and MU's Archives for their help in providing us access to the newspapers.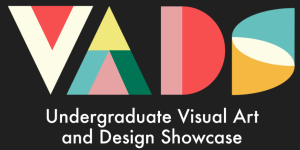 6. VADS: Visual Art and Design Showcase:
The Visual Art and Design Showcase (VADS) allows Mizzou students an opportunity to display and discuss their work in an exhibition setting. This showcase features a variety of art, such as photojournalism, graphic design, painting, sculpting, digital storytelling, and much more. The 2022 showcase is available to browse on its hosted Omeka site:
https://library.missouri.edu/exhibits/exhibits/show/vads-2022/about-the-exhibit
7. Looking Forward to 2023: 
Many projects in the Digital Initiatives department are ongoing, so we anticipate sharing even more with our MU community in the upcoming year. Don't forget to view MOspace and MU's Digital Library for any updated materials added to our collections in 2023!