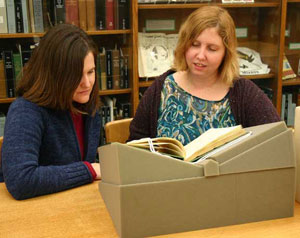 Special Collections provides a variety of services to MU students, faculty and staff. Services are available to all researchers and scholars not affiliated with the University of Missouri as well. All users must maintain a current Patron Registration Form on file at the main Special Collections reference desk.
Reference Assistance

The Special Collections Division staff is available to assist all people with their research needs and interests, whether in person, electronically, or by telephone. Since not all collections are fully cataloged, you are encouraged to ask us for information on materials in specific areas.
Faculty and instructors are encouraged to bring classes for instruction in the use of resources in Special Collections or to be shown specific materials from the collections. Department staff can provide the following services:
Bibliographic instruction
Microform instruction
Bibliographies on specific topics
Course sourcepacks
Book presentations
Other services depending on course needs
Appointments

Patrons do not need to have an appointment to view material from the collections during regular hours. However, appointments can be arranged to view material from the Rare Book Collection or other special collections outside of the regular operating hours. See Contacts to arrange for this service.
Duplication services

Scanning of print materials is done by staff members only and is carried out on a staff availability basis. Please see Scans and Imaging Services for more information.