Welcome, CVM Class of 2022! And Welcome Back, Everyone!
Check out the Zalk Library Guide for VM-1s and 2s.
Here, you'll find the basics of how the library operates and information on the resources we have available for you.
You'll especially want to check out our list of Core Textbooks and our guide to Veterinary eBooks.
Friendly Reminders to Start Off the New Year:
The library is often the only quiet space in the building. Respect your classmate's need for a quiet study area…don't make us shush you.

The library is especially busy / crowded until White Coat in October.

Drinks in covered containers allowed. "Snack" foods allowed (think things that come out of a vending machine). "Meals"/messy/smelly/noisy food not allowed — really, eat your lunch in the Zou.
Keep it clean. If you do spill something, please let us know right away.
Don't leave your stuff unattended.
Always have your badge on you.
Most importantly, we are here to help you succeed in vet school. Don't hesitate to ask us a question.
Team Zalk
Kate Anderson (left): Librarian IV & Head. Ask Kate about searching the literature.
Laura Buck (center): Library Specialist, Sr. Ask Laura about circulation and reserves.
Sue Giger (right): Library Specialist. Ask Sue about InterLibrary Loan and Document Delivery.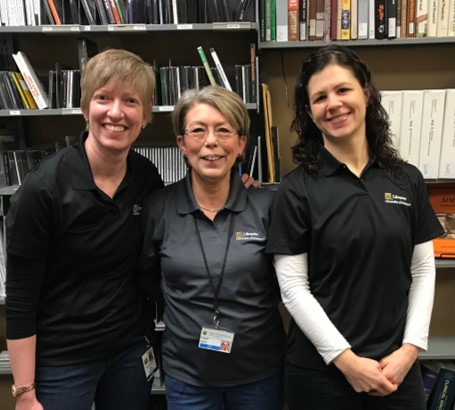 Actually, ask any of us anything!