After a short break, Unsolved Mysteries is back! Two Asian manuscripts on palm leaves are this week's mystery material. One is a single leaf, and the other is a bound book.
The single leaf was acquired as part of the Pages from the Past portfolio in the 1960s.


Like the other items in the portfolio, this leaf has a short explanatory text – but we've haven't been able to verify it.
From the great paritta, a translation in Burmese on a "palm leaf book." In an area of the world where paper and even leather rots almost overnight, strips of palm have long been used as a writing material. Note the two holes in the leaf where a vine cord bound the book and allowed the pages to be turned. The "colophon" states that this translation was completed on the 7th waxing of the month of Tawthalin of the Burmese year 1237 (September 1875). The circular characters are first inscribed on the leaf with a sharp instrument, such as an iron stylus, then an ink of oil and charcoal is wiped over the characters, to make them legible. The Burmese round characters developed because the thin fragile leaf of palm would not take inscribing where long straight lines might split the fiber.
We know even less about the palm leaf book, except that it's been identified as Javanese. It came to us from the collection of Walter Williams, the founding dean of the School of Journalism and President of the University of Missouri from 1931 until his death in 1935. The book was allegedly given to him by Ben Robertson, Jr., a J-School graduate and war correspondent whose resume included brief stints at the Honolulu Star-Bulletin and The News of Adelaide, Australia. It's not clear where Robertson would have acquired the book, but it must have come to MU in the early twentieth century.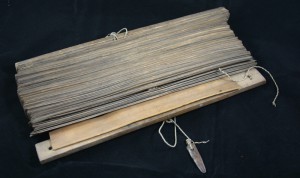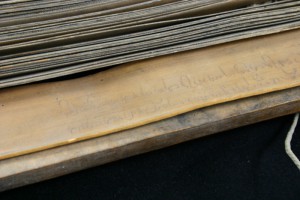 Is the palm leaf book authentic? What is the text? Is the information about the single leaf correct?
As always, email us at SpecialCollections@missouri.edu with information about these materials, or any of our other unsolved mysteries.