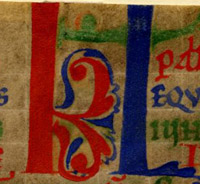 Are you tired of your Moleskine planner? Do Siri's annoying reminders tax your nerves? Consider trying a medieval perpetual calendar and discover a more streamlined approach to managing your affairs.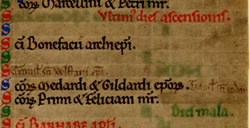 Among their many virtues is longevity: the same calendar can be used year in, year out, all the way up to the Second Coming. How is this possible? As our forebears knew, parchment is a durable medium that can withstand the insults of time and use. It is also well suited to accommodating the changing winds of orthodoxy. Should it be necessary to remove a feast from the calendar, simply scrape the pigment off, and no one will suspect your error. Should a new saint arrive on the scene, simply pencil in the feast day as someone has done for Saint Wulfstan using brown pigment in the calendar above from twelfth-century England.


P

erpetual calendars are imminently portable. Tuck yours inside your breviary, where it be within reach at all times. Rise in your co-workers esteem by scheduling meetings according to the Julian calendar (left). Your coworkers will be impressed by your willingness to master a more complicated scheme of keeping track of dates, and you will soon have everyone trying to count the days forwards and backwards from Kalends, Ides and Nones.
You will be the life of the party on New Year's Eve, when, with a furtive glance, you can determine the dominical letter, for the upcoming year (right). Dominical letters are useful for determining the date of Easter, a service for which your friends and relations will no doubt be grateful.
Be the envy of everyone with your attractive, vintage planner. You might think the colors are there merely to delight the eye, but look again. Differentiate feast days of high-status saints from those of middling status. Color code astronomical events from those of a more cosmic nature. They serve the practical purpose of differentiating different kinds of events, as well as ranking them in importance. In the calendar we've been looking at, the feast of the Ascension, the feast day of Saint Barnabus, the sun's entrance into cancer, the feast day of St. Aethelthryth, and a commemoration of Saint Paul the apostle are all given special distinction. Most astronomical information is recorded in green pigment.
Attractive, convenient, and durable, medieval perpetual calendars allow you to honor the past as you plan the future. They sit quietly inside your psalter or breviary without interrupting your classes. Get yours today!