This semester, we're kicking off a new series. Every Monday, we'll share a page or two from the department's manuscript holdings – just enough to give you a glimpse into the collections.
First up: the oldest manuscript in the collections, a fragment of De orthographia by Bede from the 9th century (Fragmenta Manuscripta #002). Fragmenta Manuscripta is a collection of leaves, clippings, and binder's waste assembled by bookseller John Bagford in the late seventeenth or early eighteenth century. It's fully digitized – find out more about it at Digital Scriptorium.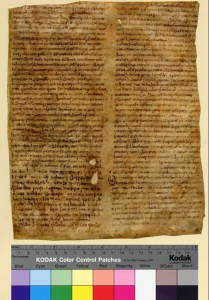 Stay tuned next Monday for another manuscript from the collections.