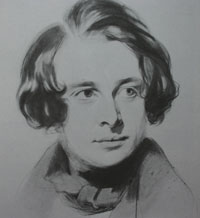 Charles John Huffam Dickens was born on this date in 1812. Dickens, one of the most famous and most belov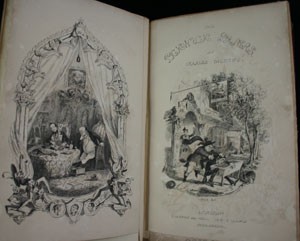 ed of all English novelists, created some of the most powerful characters in fiction. He is known all over the world, and, unlike most great authors, he was rock-star famous in his own time. He moved around a lot as a child and was forced to quit school at twelve years old to work in a factory. Those early memories, however, would later inspire settings both fantastic and real; characters both legendary and sympathetic.
Friends and family described Dickens as full of energy, almost frenetic, and he was able to focus this power into an amazing literary output. He began writing journalism at age 15, and by 24 he had finished the Pickwick Papers and was famous on both sides of the Atlantic.
When Dickens began writing A Christmas Carol, perhaps his most well known work in the U.S. today, he was 31 and already the author of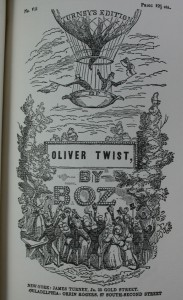 Sketches by Boz, The Pickwick Papers, Oliver Twist, Nicholas Nickleby, The Old Curiosity Shop, Barnaby Rudge, and American Notes.
Early in his career he adopted various pen names, the most popular of which, Boz became a nickname as well as a marketing tool. Boz knew how to play to the public and controlled not only his public appearances and persona, but also the illustrations that accompanied his work. From the beginning, Dickens worked very closely with illustrators and vetted every sketch before it went to press. In fact, more than one illustrator claimed later that they had been responsible for story elements, though the author denied this.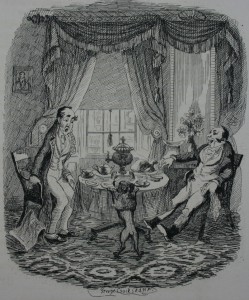 The first of these pairings was with George Cruikshank, a popular cartoonist at the time. The author and illustrator became great friends, though their relationship soured due to many factors including Cruikshank's growing obsession with the Temperance movement.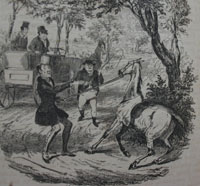 Dickens started working with Robert Seymour when publishers hired him to provide the words for a series of engravings featuring cockney sporting life. Dickens argued successfully that the words should take precedence over the art. Seymour mimicked Cruikshank's style for the occasion but was of a depressive sensibility and often in conflict with Dickens over the artwork. He had a nervous breakdown in 1830, and committed suicide upon completion of the second installment.

Perhaps the most popular collaborator, Hablot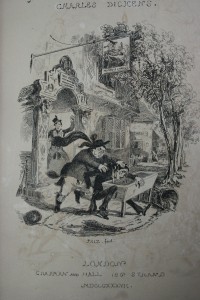 Knight Browne worked with Dickens for over 23 years. He adopted the nickname Phiz to complement Dickens' Boz.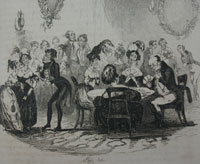 "No other illustrator ever created the true Dickens characters with the precise and correct quantum of exaggeration."
– G.K. Chesterton on H.K. Browne
Charles Dickens changed the face of literary history, revolutionized popular fiction and fame, and left behind immortal masterworks that still resonate with a world of readers.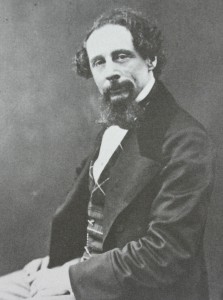 Celebrate his 200th birthday by dropping by Special Collections in Ellis Library to read the stories as Dickens so meticulously intended. We have many of his greatest works, some beautifully bound, dating from the beginning of the author's literary career. Experience what created this pop sensation first-hand!